Smoke Signal Church of the Nazarene
Ron Little pastors the Smoke Signal Church of the Nazarene and is President of the NAYM Board of Directors. Ron and Cindy have been a part of the Smoke Signal/Blue Gap community for years. Cindy's father, Ned Begay, was one of the pastors of this church (see the history below). Cindy remembers living in the parsonage where the Sunday School rooms are now housed. Her family is from this area.
Beginning in 2020 Pastor Ron Little began broadcasting the Sunday Service and Sunday School via a radio transmitter. Because the Navajo Nation had strict rules for meeting, due to the pandemic, Ron came up with a "Drive-In" church. People could drive up to the church and turn their radios on and hear the sermon. He also began uploading the services to You Tube. This was arduous, as the internet service was so weak. Since that time he has installed Satellite internet and continues to upload services to the church's channel. Take a moment to to to You Tube to: Smoke Signal Drive In Church. The sermon and Sunday School lessons are in Navajo. Make sure you subscribe and press the LIKE button.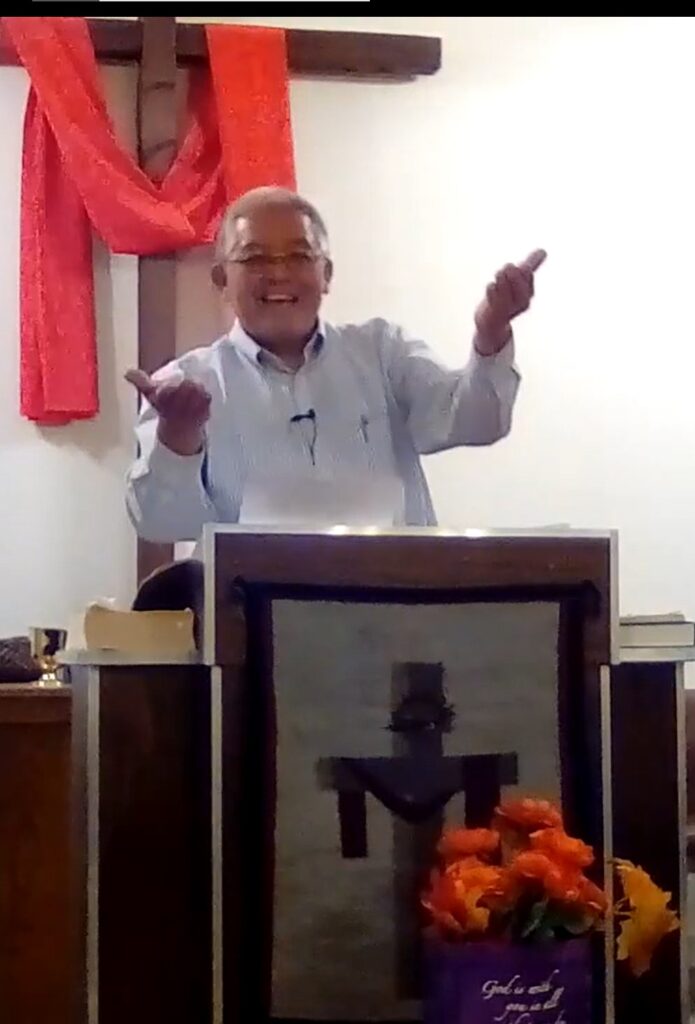 History of Smoke Signal Church of the Nazarene
The Smoke Signal Church of the Nazarene was started by Brother Decker and Sister Florence Yazzie in 1950. Services were held under a tree, moved under a tent and eventually into a hogan.  Two buildings were later built that served as a parsonage for the pastor and a parsonage for the nurse.
In 1954, Sister Gertrude Jones became pastor. Later that year Beulah Campbell was assigned to the mission. Gladys Johnson was the Navajo interpreter. People came in from all directions on horseback or by wagon.
In 1956, Brother Charlie Billy taught.
In 1960, Brother Dallas and Sister Helen Cooper served.
In 1962, Brother Joseph and Sister Lillie Curley arrived and constructed the metal building, which was the main church building, but now is the fellowship hall.

In 1969, Brother and Sister Mandell arrived with their family.
In 1972, Brother and Sister Imel arrived.
In 1974, Brother and Sister Hughes arrived, along with Sister Ellsworth, our piano player. Mrs. Eleanor Whitehorse served as the Navajo interpreter.
From 1977 to 1988 Brother Ned and Sister Zenna Begay served. They were local members.
Around 1988 to 1989, Brother Earl Williams served as pastor, along with Brother Ambrose Tsosie.
From 1997 to 1998 Brother Ned and Sister Zenna Begay came back as pastor.
From 1998 to 2001 Brother Dennis and Sister Juanita Johnson and their little Crystal arrived. They started construction of the new church parsonage with the help of Work and Witness teams.
From 2001 to 2002 Local members held Sunday services (no pastor).
From 2002 to 2005 Brother Alex and Sister Evelyn Riggs started filling in as pastor. They came from Leupp (60-70 miles one way) to hold services. Alex completed construction of the new church building with the help of Work and Witness teams along with local church members. 
From 2005-2006 Brother Earl Williams was pastor.
From 2006-, Brother Ned and Sister Zenna Begay returned as pastor.
to present, Pastor Ron and Cindy Little pastor the church.