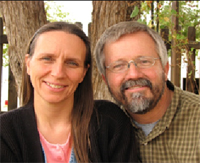 Russell and Cynthia Toews Family
GOD'S call in 1996 to move to Hopi came to us through the church at Bacavi, AZ asking for help. This role of servant leadership has led us into many forms of ministry including Sunday meetings, Bible studies, hospital/jail visits, elderly care, sewing with the visually impaired, ministering to hurting people needing GOD'S Life-giving message freeing them from the devil's bondage.
GOD uses us in meeting physical needs like home/vehicle repairs, transportation, a small food pantry, providing food and lodging for those in need. These things help us to build trusting friendships and give us   opportunities to share the Love of GOD, HIS message of salvation through JESUS CHRIST. We minister to children through after school/summer activities and by providing nutritious snacks/meals.
Our time is not our own. We have been bought with a price (the precious blood of JESUS) and we desire to serve our LORD with all that we are. We are very blessed and thankful for The LORD'S faithful provision. HE has called many faithful people to pray for us and support us in many wonderful ways. We could not be what GOD has called us to be without this team which our LORD has brought together.
Pray for Hopi people to be hungry for The WORD of GOD, to seek first HIS Kingdom and HIS Righteousness and to be fully surrendered to HIM.
Eph. 3:20-21: "Now to him who is able to do immeasurably more than all we ask or imagine, according to his power that is at work within us, to him be glory in the church and in Christ Jesus throughout all generations, for ever and ever! Amen." (NIV)